Description
Truer Than Fiction Film Independent Spirit Award
Best Documentary SXSW Film Festival Premiere
HBO Emerging Filmmakers Award Honorable Mention Full Frame Film Festival
Special Documentary Feature Jury Prize Newport Int'l Film Festival
New Voices in Documentary Calgary Int'l Film Festival
Remarkable… Captivating… A small town symphony. -The New York Times
Hypnotic! – New York Magazine Critic's Pick
An achingly beautiful film. – Roger Ebert
Meticulously balancing cinema-verite intimacy and dreamlike reverie, 45365 fashions a seductive, fascinating tapestry of small-town life by interweaving seemingly random glimpses of residents in Sidney, Ohio. – Variety
45365 offers an intriguing meditative look at small-town life. Recommended. – Video Librarian
"A hypnotic tapestry" -Time Out New York
"A poetic documentary of quiet American surfaces and intimately eavesdropped people" -The Village Voice New York
"A reserved, honest, and loving reflection" -Tiny Mix Tapes
"Graceful, affectionate and clear-eyed portrait of Middle America." -LA Times
"Strange, disorienting and unexpectedly affectionate… It may seem that [Bill and Turner Ross] are crafting a real-world analogue to David Lynch's creepy visions of American life… the brothers instead create something that is at once both mysterious and celebratory." -LA Weekly
"an exhaustively detailed, entrancing journey, crafted with love for everything from raindrops on a windshield to a cheesy Elvis impersonator" -Slant Magazine
"Poetry in images." -Chicago Reader
"Luscious… funny, tender, lyrical" -Newcity Film
"Lovely… Harkens back to the early days of direct cinema" -Paste Magazine
"Remarkable" -The News Gazette
Synopsis
45365 takes us on an unforgettable journey into America's heartland. Through beautiful imagery and intimate access into the participants' lives filmmakers Turner and Bill Ross present the intricate connections and close relationships, and small moments and life-changing events, of a small town in Ohio, giving us a cinema verite mosaic reminiscent of the great Frederick Wiseman. From the man who calls a local policeman because his cable is out to an ex-con who is just trying to get by to a judge running for reelection 45365 captures what it means to live in small town America.
Directors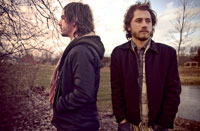 Bill and Turner Ross
Bill and Turner Ross' debut feature film, 45365, was the winner of 2009's SXSW Grand Jury Award for Best Documentary Feature. They have gone on to receive numerous awards and nominations, including the Independent Spirit Truer Than Fiction Award; nominations for Editing, Cinematography, and Debut Feature at the Cinema Eye Honors; and a nomination for the London BFI Grierson Award. Their documentary, fiction, and multi-media short films have been featured at museums and film festivals throughout the world.