Description
"Top notch and intelligent" – eFilmCritic.com
"Impressive, compelling" -Variety
Synopsis
Call It Democracy is a fresh perspective on voting rights, election reform and the unresolved electronic voting controversies threatening to undermine confidence in our democratic system. Nearly four years in the making, Call It Democracy begins when the vote counting stopped and mainstream media coverage ended. Illuminating interviews with respected academics, Congressional representatives and ranking judges such as Alan Dershowitz, Vincent Bugliosi, Rep. John Conyers, Jesse Jackson, Jr., Greg Palast, Judge Richard Posner and others outline the reality of what it means to vote in the U.S. today.
Director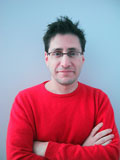 Matt Kohn
Matt Kohn is the Director of "Call it Democracy." Kohn has produced, edited and directed short and full-length films, music videos, industrials and documentaries for the past fifteen years."Everywhere But Florida" is Kohn's third documentary.
Previously, "Rosa X Rays Joe," Kohn's most recent short, an absurd comedy featuring Drama Desk Nominee Anita Durst, won distinction as Best Experimental Film at SinCine2002. In 1999, Kohn directed and shot the silent video projection "Sea Level Inferno." "Sea Level Inferno" was shown on over twenty screens across the United States; including at The New York Underground Film Festival, The Texaco Jazz Festival and during a special screening at The Anthology Film Archives.
Kohn's first documentary, "On Demand: Soldiers for Peace," is a film about conscientious objectors and combat veterans of the Persian Gulf War. Another of his noted works includes the first documentary about noted photographer Spencer Tunick. His film later became the inspiration to the HBO Production "Naked States." Kohn's music video work features the title track to William Hooker / Thurston Moore / Elliott Sharp collaboration record "Shamballa," was the first free jazz music video to be broadcast on MTV.
Kohn's next documentary focuses on the lives of 30 year old painter Joan Linder and her father, a child survivor of The Holocaust. The as yet to be named project, follows Joan as she takes her father on a trip back to the Ukraine, where he was raised, in order to examine and make paintings about what their lives might have been like had The Holocaust never happened.
Previously, Kohn graduated from Brandies University with a degree in Politics, Feminism and Film Theory. At Brandeis, he was the Student Government President. "Lake Success", published by Soft Skull Press in 1996 is Kohn's highly regarded book of poetry.