Description
A beautiful film, deeply moving, hauntingly lyrical, and smart and learned. – Henry Louis Gates, Jr.

We enter interiors of Viennese homes, of people's dreams and aspirations to confront how we construct identity and meaning. A remarkable film. – Yo-Yo Ma

A remarkable interweaving of the public and the private, the exploration of a city that is also an investigation into personal history. – William Kentridge
Synopsis
The Burning Child is a film journey into Vienna's interior, built architecture from the city's past, the city's secret hidden beneath its foundations. It is the space of the psyche mapped in Vienna. From around 1900, when it became Central Europe's capital, to the present day, Vienna has inspired fateful dreams of home. Its famous denizens-Freud, Wittgenstein, Klimt-designed interiors that shaped the modern home. Through interviews, testimony, and archival footage, the film presents the Viennese interior against the backdrop of Austria's troubled past.
Directors
Joseph Leo Koerner is an American art historian and filmmaker. He is currently the Victor S. Thomas Professor of the History of Art and Architecture and, since 2008, Senior Fellow at the Society of Fellows at Harvard University. Specializing in Northern Renaissance and 19th-century art, Koerner is perhaps best known for his work on German art. After teaching at Harvard from 1989 to 1999 (as Professor since 1991), he moved to Frankfurt, where he was Professor of Modern Art History at the Goethe University, and to London, where he held professorships at University College London and the Courtauld Institute before returning to Harvard in 2007.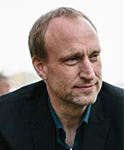 Christian D. Bruun is a director, producer, and cinematographer of documentary and narrative feature films and television. A member of the Producers Guild of America, his films have had international theatrical and television distribution and have been in official selection at Sundance, Tribeca, Berlin, Locarno, IDFA, and Hot Docs festivals.
Currently, as director and producer, Christian is developing narrative feature film Candy about transgender Andy Warhol muse Candy Darling. He is in post-production on Calendar Girl about Ruth Finley, the influential creator and founder of The Fashion Calendar.