Description
Official Selection
San Francisco Jewish Film Festival
Philadelphia Jewish Film Festival
New York Jewish Film Festival
Atlanta Jewish Film Festival
San Diego Jewish Film Festival
Greater Phoenix Jewish Film Festival
Washington Jewish Film Festival
Palm Beach Jewish Film Festival
Jewish International Film Festival
Jerusalem Jewish Film Festival
UK Jewish Film Festival
"The taut drama reveals the triumphant reality of how Veil, her aides, and the shrinking number of party members held their ground…The Law is a tribute to Simone Veil's power as an individual and an extraordinary humanitarian." – BlogCritics.org
Synopsis
Born in France in the 1920s, Simone Veil (Emmanuelle Devos) studied politics at Paris's prestigious Sciences Po until she and her family were deported to the extermination camps during World War II. Though she lost her parents and a brother, Veil managed to survive both Auschwitz and Bergen-Belsen, an experience that taught her to fight and which would prepare her for her battles for women's rights in the decades ahead. After the war, she rose in the national government, becoming Chirac's minister of health in 1974 and the driving force behind a then controversial law to legalize abortion in France in the 1970s.
Director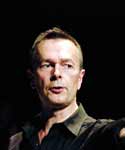 Christian Faure is a French screenwriter and film director.
During ten years, he was first assistant director with many directors as Leos Carax (Bad Blood, with Juliette Binoche), Robert Altman (Vincent and Theo, with Tim Roth), and Rolf de Heer (Dingo, with Miles Davis). He has directed many television movies, and in 2006, he directed his first feature film, Les Hauts Murs (Behind the wall).