Description
Accolades
Premiere at 2013 Napa Valley Film Festival
Synopsis
Many vintages ago, in the 11th and 12th centuries, monks were considered the premier winemakers in the world. From the Burgundy and Loire valleys of France to the Rheingau region of Germany, monks developed an early understanding of terroir, pioneering advancements in trellising, irrigation and the magic bubbles of champagne.
Now, a brotherhood of Trappist monks at the Abbey of New Clairvaux is attempting to revive the old craft in the hot, dusty town of Vina, just north of Chico, California. In a region known more for olives and prunes than wine grapes, they're growing unusual varietals like Albarino, Tempranillo, Trebbiano, Graciano and Barbera.
Their 15-acre vineyard lies on the same sprawling property where railroad baron and former California governor Leland Stanford once planted the largest vineyard in the world in the 1880s. Add to the mix a fifth-generation female winemaker – in a traditionally male-dominated order – and you've got the recipe for a one-of-its-kind winery.
With the wine harvest of 2012 as the backdrop, director John Beck (Harvest, Worst in Show) explores the rituals and curiosities of monastic life. Along the way, the monks' faith will be tested, especially among the new arrivals who recently relinquished all worldly possessions, taking vows of poverty, obedience and chastity.
Lifting a veil on the spiritual side of winemaking, "The Monks of Vina" reveals the extreme sacrifice and devotion required in a quest to become closer to God.
Director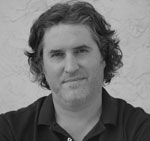 John Beck, Bay Area filmmaker and journalist, splits his time between directing and producing documentaries, shooting promotional video and writing freelance journalism.
For the past 15 years, he has worked as a journalist in Sonoma County where "Harvest" is set among the vineyards. It was while on assignment to capture footage of a night harvest at Foppiano Vineyards in 2010 that he stumbled upon the behind-the-scenes drama and sacrifice that go into every bottle of wine. That's when he decided to follow all walks of life – rich, poor, winemaker, grape picker – through next year's harvest of 2011. It would turn out to be the worst harvest in Sonoma County in at least 50 years.
His previous films, the feature-length "Worst in Show" and shorts "Stringers" and "Drag King," have won numerous film festival awards. His print stories have won national awards from the Society for Features Journalism and the Association of Sunday and Features Editors.
Beck was born in Nashville, Tennessee and now lives in the San Francisco Bay Area.