Description
GOPO Award for Best Documentary, Romania
Best Editor DocuArt Film Festival, Bucharest
Official Selection
Astra Film Festival, Romania
Romanian Film Festival at Stanford
Jerusalem Int'l Film Festival
Jewish Culture Festival, Poland
"Aliyah Dada is one of the most pleasant and refreshing surprises of the contemporary Romanian cinema. Oana Giurgiu's documentary is a personal, very well documented and intelligently presented investigation into the history of Jewish presence in Romania."
-Film Magazine, Romania
Synopsis
A cultural renaissance is happening in Israel today, catalyzed by the half a million Romanian Jews in the country. Oana Giurgiu, a Romanian filmmaker raised under the "Supreme Communist Truth," rights history in her Dadaist-inflected film on the immigration of Romanian Jews to Israel. Oana's journey through time and geography produces a rich and deeply textured history beginning with the great Aliyah to the Holy Land, then 19th century Ottoman Palestine, through the horrors of the Second World War in Romania, and to the subsequent secret dealings by the Romanian Communist Party, and arriving at the cultural transformation happening today.
Director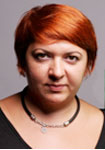 Oana Giurgiu, graduate in Journalism and Law, is a producer of films, TV programs and music videos. She is currently executive director of Transilvania International Film Festival.
Oana produced "THE KINO CARAVAN" by Titus Muntean, a co-production with Filmkombinat (Germany), premiered in Pusan in 2009; "SOMEWHERE IN PALILULA," the debut film of acclaimed theatre director Silviu Purcarete, premiered in Karlovy Vary in 2012; and the second feature of Tudor Giurgiu, "OF SNAILS AND MEN," the Romanian box office hit in 2012, awarded in 2012 at Warsaw IFF and Valladolid IFF.