Description
Best Documentary Worldfest Houston International Film Festival
Best Documentary Fort Myers Florida Film Festival
Synopsis
Filmed in every corner of America and over two years in the making, Almost Elvis is the ultimate documentary on the world of Elvis impersonators; a world where imitation is truly the sincerest form of flattery. The best Elvis competitors work the circuit all the way to the Elvis Presley capitol of the world, Memphis, Tennessee. Almost Elvis captures their remarkable stories and uncovers one of America's most fascinating and humorous cultural phenomena.
Director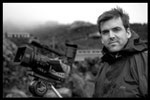 John Paget
John Paget is an independent filmmaker originally from Olympia, Washington and now based in Buffalo, New York. His award-winning documentary films have won critical acclaim for their witty and provocative exploration of American cultural icons and idiosyncrasies. His documentaries have been broadcast internationally and sold over 100,000 videos/DVDs.
As a freelance producer/director, John has traveled worldwide to produce commissioned projects for international non-profits, TV networks, and Fortune 500 companies.