Description
"A FUN dive into bizarre BIZARRE creative sensibility." – Dennis Harvey, Variety
4 STARS "An astonishing story." – St. Louis Post Dispatch
"Proof that the world is still catching up to this prolific and distinctive pioneer." – Gene Siskel Film Center
Synopsis
The enigmatic underground pioneer Bruce Haack, musician and inventor, has inspired the likes of Beck, Money Mark of the Beastie Boys, and Mouse on Mars, with these artists and more contributing to the recent Haack Tribute Album. His work continues to garner recognition long after his death. Packed with mind blowing visuals, wild music and far out stories, HAACK peers into the genius of the man responsible for electronic music. The film follows the King of Techno as he drops in on "Mister Rogers' Neighborhood" and the golden age game show host, Garry Moore, and plays all his bizarre sound instruments. A film in true Haack spirit – for kids, music fans and computer geeks, guaranteed to ignite the imagination.
Starring BRUCE HAACK, ESTHER NELSON, PRAXITELES PANDEL, CHRIS KACHULIS, STARCHILDREN
Featuring *JEAN-JACQUES PERREY, MONEY MARK (beastie boys), EELS, MOUSE ON MARS, *CUT CHEMIST, *PEANUT BUTTER WOLF, TIPSY, DJ ME DJ YOU, ANUBIAN LIGHTS
Special appearances by MISTER ROGERS, GARRY MOORE
Director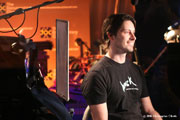 Phlip Anagnos
When asked how first time filmmaker, Philip Anagnos, discovered Bruce Haack, "Well, I'd been following techno music culture for some time, but always felt as if there was a missing link, kind of an empty feeling to it all. When I came across Bruce's work, I found a heartfelt story unlike any other; and the chaos that surrounds this culture's history suddenly made
perfect sense." Though this is Anagnos' feature debut, he has a background of making experimental films and has even
invented his own musical computer instrument, Jock the Guitar. "At one point I was making all these strange flicks, and realized that no one would ever see them. So I wanted to make something more important [Haack], but keep that true underground spirit". Philip is currently writing a screenplay version of Haack, for he says the documentary format could only take the story so far; and that a full length narrative movie will explore the whole beautiful, but darker side of Bruce's life.