Description
"Necessary viewing! A testament to the power of the medium! Will bring viewers to a place when radio mattered!" – Sean Ross, Billboard Magazine
Synopsis
The rock radio DJ once played an unprecedented creative role in the rock music world. I Am What I Play profiles four DJs in major markets: their programming, their politics, and their deep connections with musicians and fans in the heyday of rock radio. Where are they now — and how did they reinvent themselves as the medium changed?
Director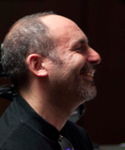 Roger King has spent the better part of two decades in and around the film and television industry, writing and producing various projects for broadcast, as well as a couple of short films. His main job though has been that of a Toronto-based voice talent and talent agent owner. It only makes sense then that he would produce and direct a project that is the perfect marriage of film and voice: a documentary about rock radio disc jockeys. I Am What I Play is King's first feature-length film.
The DJs
Meg Griffin is a rock radio legend, having spent almost 40 years on New York airwaves. Her early stint at WRNW lead to a lifelong friendship with colleague Howard Stern. Later, at the incomparable WNEW, she played a major role in championing the punk and new wave scene of the late 70s and early 80s, introducing listeners to the music of Patti Smith, The Ramones, Talking Heads and many others. Griffin has been honored by the Rock and Roll Hall of Fame and continues her groundbreaking free-form radio work on three different Sirius XM satellite radio channels.
David Marsden first ruled the Toronto airwaves as David Mickie, a motor-mouthed DJ who hosted two television shows and was featured in Marshall McLuhan's book Understanding Media. Later he would carve out his own identity on powerhouse CHUM-FM in the early 1970s and then as program director of one of North America's first alternative rock stations, CFNY, known as The Spirit of Radio. He is the subject of an exhibit at the Rock and Roll Hall of Fame and was recently given a lifetime achievement award by the Canadian Music and Broadcast Industry Hall of Fame.
Charles Laquidara was the morning man for pioneering free-form station WBCN in Boston for over 25 years and was among the highest-paid radio personalities in the U.S. He was one of the first morning show hosts to have a staff of writers and a cast of comic characters but was also known for using his show The Big Mattress to take on major issues like the Vietnam War and Apartheid in South Africa. Laquidara was inducted into the Massachusetts Broadcasting Hall of Fame in 2009.
Pat O'Day was a DJ and Program Director at legendary Seattle station KJR for the better part of 15 years. His dance and concert promotion business eventually became Concerts West which at its peak represented big names such as Jimi Hendrix, Led Zeppelin, The Eagles, and Elvis Presley. O'Day is credited with putting the Seattle music scene on the map and is part of a permanent exhibit at the Rock and Roll Hall of Fame.