Description
North American Premiere
San Francisco Jewish Film Festival
Synopsis
On the basis of original records, MURER – ANATOMY OF A TRIAL reconstructs the 1963 proceedings against Franz Murer, a wealthy Austrian farmer with a sterling reputation, that took place in Graz.
This respected local politician and family man was in charge of the Vilnius ghetto from 1941 to 1943, where its residents called him the "Butcher of Vilnius." Solely 600 of the 80,000 Jews who originally lived there survived Nazi rule.
Survivors came from around the world to testify at the trial, leaving little doubt of Murer's guilt. This resulted in one of the most serious scandals of Austria's Second Republic for which the justice system, press and governmental policy were responsible.
Director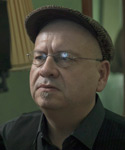 Christian Frosch was born in Waidhofen an der Thaya, Lower Austria, in 1966. He first trained as a photographer at the Höhere Graphische Bundes-Lehr- und Versuchsanstalt in Vienna, then attended the Filmakademie Wien, before earning a degree in film direction from the Deutsche Film- und Fernsehakademie Berlin (dffb). He has directed ten short films and written six screenplays. His feature-film debut came in 1996 with DIE TOTALE THERAPIE. His screenplay, co-written with Blixa Bargeld, received the Carl-Mayer-Drehbuchpreis. K.AF.KA FRAGMENT (2001), starring Lars Rudolph as Franz Kafka, received the Pearl of the World Award at the International Film Festival Rotterdam and the Special Prize of the Jury at the Kinotawr Festival in Sochi. Frosch created the production firm weltfilm with Kristina Konrad and Ursula Scribano in 2002. For Von jetzt an kein Zurück (2014) he received the Audience Award of the Diagonale in 2015 and the Österreichischer Filmpreis in 2016 for best screenplay. Christian Frosch lives in Berlin and Baden, near Vienna.