Description
Official Selection
Toronto Jewish Film Festival
Los Angeles Jewish Film Festival
Santa Barbara Int'l Film Festival
Seattle Jewish Film Festival
Stony Brook Film Festival
San Diego Latino Film Festival
Synopsis
In MY FIRST WEDDING (MI PRIMERA BODA), Jewish-born Adrián (Daniel Hendler) and Catholic-born Leonora (Natalia Oreiro) have finally reached their wedding day. Instead of gracefully embracing matrimony, Adrián spends the hours leading up to the ceremony trying to postpone it, not because he's got cold feet (or does he?), but because he's clumsily lost both his and his bride-to-be's sacred wedding rings. Disaster ensues in director Ariel Winograd's winning comedy about the politics of the proverbial "Big Day."
Director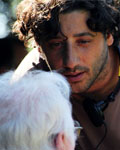 Ariel Winograd
A graduate of ORT and Universidad del Cine, Ariel Winograd worked at a very young age as a filmmaker and television producer. During his studies, Winograd made several short films that received numerous awards in festivals locally and internationally. Winograd also directed several video clips for various bands. In 2004, he directed and produced the documentary "Fans". The same year, his screenplay "The Face of Cheese" was awarded by the Fundacion Carolina and received a grant for its development in Madrid.
In 2005, Winograd was selected to work on the film "Inside Man "(aka "A Perfect Plan "), directed by Spike Lee. In March 2006, "The Face of Cheese" began production. The film premiered in Buenos Aires on October 2006, receiving rave reviews. "Inside Man" toured the international festivals circuit and was sold to television stations worldwide.
In 2009 the idea of MY FIRST WEDDING was born and production began not long after. The film premiered at Ventana Sur in 2011.