Description
Synopsis
NO EXCUSES travels with the United States Disabled Ski Team across Europe, Canada and the United States during the three-month 2002 World Cup Season and culminates at the 2002 Salt Lake City Paralympics – where paralyzed, one-legged and blind athletes reach speeds of up to 70 mph on the Olympic downhill course. During this season, the 22 athletes on the U.S. Disabled Ski Team compete to win their fourth straight Nations Cup and to once again win more medals than 36 other nations in Salt Lake City.
Director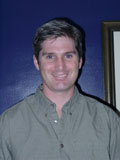 Matt Martin
No Excuses: a Season with the United States Disabled Ski Team is Martin's feature directorial debut.
Matt is currently editing the feature length documentary Straight Acting. His previous editorial credits include: Unprecedented: the 2000 Presidential Election in Florida, Lost Children: America's Child Welfare Systems, the reality television pilot WORKFORCE (FX Network) and Blood on the Land: the making of King Arthur. Martin has worked as an assistant editor on projects including the feature length documentaries Stevie (Lions Gate Films 2003) and Marlene: Her Own Song (Turner Classic Movies 2001).
Matt received an M.F.A. in Film Production from the University of Southern California in 2001 and a B.A. in English Literature from Middlebury College in 1991. His USC thesis film Lather.Rinse.Repeat. starring Troy Garity and Marshall Bell, won awards including a Silver Plaque at the Chicago International Film Festival and Best of Fest at the Seattle OneReel Film Festival.