Description
Accolades
Winner Bronze Palm Award, Best First Time Filmmaker
Mexico Int'l Film Festival
Winner Best Documentary
Cyprus International Film Festival
Official Selection
Madrid Int'l Film Festival
Portobello Film Festival London
Jerusalem Jewish Film Festival
Bucharest Jewish Film Festival
Synopsis
After 12 years of absence, a filmmaker is returning to Israel in search for answers. What starts as a personal journey, will turn into an intimate portrait of surprisingly different women in a war stricken land. Noga is a high school teenager who is eager to be accepted into the best unit of the Israeli army. Moran is a religious social worker who has chosen as a home town Sderot, which is under the threat of rockets. In this Israeli-Jewish town also lives Hanadi, a young Arab woman from the northern part of the country, fighting for her identity. From north to south, from past to present, the quest for answers creates an intimate portrait of women in a country at war.
Director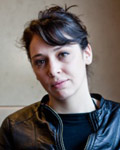 Sharon Ryba-Kahn, the French-Israeli director was born in Munich in 1983. Sharon spent her first 14 years in Munich, before moving to Jerusalem in 1997. In 2001 she graduated from the French Lyce in Jerusalem then went to Paris to study acting.
After working as an actress and as a director in various theatre productions, she decided to continue her education at the New York Film Academy, where she studied film production. In 2009 while continuing to work as an A.D., she started her academic studies and graduated with a Masters degree in Visual Anthropology in 2013. Nothing has impacted her as much as her time in Jerusalem. For this reason Hakara, her directorial debut, could not speak of anything else but the lives of the people there.