Description
Official Selection Los Angeles Jewish Film Festival
Best Inspirational Film Los Angeles Film Awards
Best Documentary Jersey Shore Film Festival
Best Female Director London Independent Film Awards
Award of Excellence, Director Worldfest Cinema Awards
Synopsis
Rosalee Glass, a 101-year-old Holocaust survivor, taken prisoner to a Russian gulag in Siberia during WW2. After being taken to Kazakhstan and later to a Displaced Persons Camp in Germany, she made her way to America. She shares her story of survival and transforms her destiny by living her life to the fullest after a life-changing tragedy during her senior years, where she lost her will to live. But miraculously, she found the strength that would transform her life and enable her to live her dreams. In her late 80's, she started an acting career. At 94 won a Senior beauty pageant. She was seen by millions in a Super Bowl commercial at 97 and wrote a book sharing her secrets to a long life at 99. And at age 100 she dares to ride with Alaskan Sled Dogs.
Director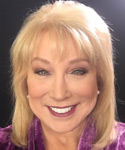 Lillian Glass An internationally renowned body language and communication specialist, best-selling author Lillian Glass helped many actors develop their characters for Academy Award-winning movie roles, serving as a mini-director which prepared her for her new journey as bona fide director, something she has dreamed of her entire life. Her work as a body language expert enabled her to understand character development in making this film and her discipline and analytical skills as a researcher were instrumental in going to the depths of the earth to find the right materials and people to participate in this film.
Reinventing Rosalee "is her debut film. She h. as several other documentaries and feature films as well as an animated project currently in development.