Description
Critics Week Cannes Film Festival
Winner Best Feature Jerusalem Film Festival
Official Selection
United Kingdom Jewish Film Festival
Miami Jewish Film Festival
Toronto Jewish Film Festival
New York Sephardic Jewish Film Festival
"A beautifully acted, carefully thought out and heartfelt story"  – Jerusalem Post
Synopsis
It is 1991 in the midst of the first Gulf War and Israel is under daily missile attacks. But in the Ohayon family, tragedy has hit in more mundane circumstances as beloved Maurice, one of nine brothers and sisters, has suddenly died. The family gathers for the traditional seven days of mourning (shiva) in which they are not allowed to leave the house. The intensity of this situation is a catalyst for more than just emotional support and communal grief. Jealousy, gossip, long term rivalry and financial problems come to the fore, as each of the siblings is faced with his frustrated ambitions.
Director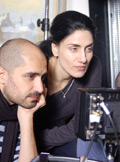 Ronit and Shlomi Elkabetz were born in Israel of parents originally from Morocco. They co-wrote and co-directed their first movie To Take a Wife in 2003 which was awarded with Public and Critics awards at Venice Film Festival 2004. Ronit Elkabetz is one of the most acclaimed actresses in Israel, participating in films such as Or- My Treasure (Cannes Critics Week Grand Prize & Golden Camera), Late Marriage (Un Certain Regard) and recently, The Band's Visit (Un Certain Regard) .
While teaching cinema at Sapir College in Israel, Shlomi wrote several feature film scripts (Fraction, Shetter, A fantastic Comedy and Herzel).
The 7 days is Ronit and Shlomi second feature film as co-writers and co-directors.