Description
Best Documentary Astoria International Film Festival
"Astonishing… rich in honesty and realness." -The Oregonian
Synopsis
STUFF relates the personal odyssey of a Portland, Oregon filmmaker through a crisis of identity fueled by his father's death, and the process of sorting and distributing the garage-sized storage unit full of the stuff that his father left behind, which quickly becomes larger-than-life. Part road movie, part meditation, STUFF is a funny, intimate and unflinching journey down the rabbit hole of the relationship between adult children and their parents. Through still photography, live-action footage, home movies and animation, STUFF explores psychic terrain that we all face when confronted by the loss of parents and our own mortality.
Director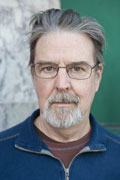 Lawrence Johnson
Lawrence Johnson has produced and directed more than forty films in the past three decades. STUFF is his second feature length documentary and most intensely personal work. The subject and making of it consumed six years and a passage through homelessness and depression- both depicted with characteristic honesty in the film.
Johnson has developed a national reputation for historical and cultural documentary work for museums, producing films for the Smithsonian Institution, the Washington State History Museum, and the National Cowgirl Museum and Hall of Fame. He won the Golden Muse Award from the American Association of Museums, and his work has played at numerous film festivals.