Description
Synopsis
Fleeing from Nazi occupied Europe, thousands of Jewish refugees were able to escape by train across Russia and then by boat to Japan. This was due to a Japanese diplomat, Chiune Sugihara, working in Lithuania who issued transit visas contrary to his government's instructions. Many years later a Japanese writer, Akira Kitade, inherits a photo album with pictures of some of these refugees. He sets out on a mission to discover what became of these refugees. We follow him on his journey from Japan to the USA. The film features interviews with some of the "Sugihara Survivors" and their families.
Director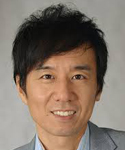 Junichi Kajioka is an award-winning Japanese writer and director based in London.
His first film IMPHAL 1944 won him Best Film, Best Director, Best Producer and Best Screenplay awards at film festivals. This short drama is based on the life of Mr. Masao Hirakubo OBE, who dedicated his life to reconciliation between Japanese and British veterans after WWII. He is currently filming a documentary on this same subject for the 75th anniversary of the Battle of Imphal.
His second film is "SUGIHARA SURVIVORS: JAPANESE AND JEWISH, PAST AND FUTURE". This is a short documentary film about Chiune Sugihara, a Japanese diplomat who saved thousands of Jewish people in WWII, and some of the 'Sugihara survivors', who he helped save. The film shows a Japanese writer, Akira Kitade, trying to trace the identities of some of the survivors. Junichi won Best Short Documentary awards at film festivals in the UK, France, India and Taiwan for this film. The feature drama based on SUGIHARA SURVIVORS is in development.
Junichi has a passion for discovering and telling little known stories to the world, especially those connected with relations between Japan and the rest of the world.
Junichi has established CULTURE BRIDGE PRODUCTIONS in order to help build bonds and wider global cultural connections through his filmmaking.