Description
Foundation for Jewish Culture Grant Winner
Winner – Inspiration Award Full Frame Documentary Film Festival
Winner – Ojai Festival Theme Award Ojai Film Festival
Official Selection
Starz Denver Film Festival
Sidewalk Film Festival
Jerusalem Jewish Film Festival
San Francisco Jewish Film Festival
Stranger Than Fiction
"Impressive… A fresh angle… Mesmerizing" -RealScreen Magazine
"Remarkable story" -Filmmaker Magazine
"Astonishing… A film that will educate and entertain" -The Huffington Post
"A film that must be seen… More wonderful than anything Hollywood could have written" -The Herald-Sun
"A story that is as incredible as it is captivating" -Stranger Than Fiction
"Truly one for the ages" -The Herald-Sun
"Eerily enchanting" -GQ Magazine
"Remarkable look at life" -San Francisco Chronicle
"Gripping tale" -The Mercury News
"A gold mine" -Santa Cruz Sentinel
"A love story like few others" -The Concord Monitor
"Compelling and so inspiring." -Savannah Now
Synopsis
A Jewish teenager and an injured soldier join a doomed plot to kill Hitler.
As a teenager in Nazi Germany, Jutta is shocked to discover she is Jewish. She joins the German resistance and meets Helmuth, an injured soldier. The two become sweethearts and soon co-conspirators in the final plot to assassinate Hitler.
This would sound like a pitch for a Hollywood blockbuster were it not all true. Surviving Hitler: A Love Story is in fact a harrowing tale of war, resistance, and survival. At the center of the documentary is a love story for the ages, with riveting narration by Jutta herself, original 8mm footage (shot by Helmuth) and, miraculously, a happy ending.
Director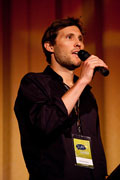 John-Keith Wasson
John-Keith Wasson graduated from the London Film School. Since then, he has worked predominantly as a cinematographer. His shooting credits include the award-winning documentary The Devil Came on Horseback. In 2007, John-Keith met Jutta. She shared with him the details from her life and eventually trusted him with her home movies and love letters. He saw the makings for a film. This is John-Keith's directorial debut.