Description
Winner – Best Actor San Diego Film Festival
Winner – Honorable Mention Cinevegas Film Festival
"The Favor is that rare film that at every turn exhibits good taste." – LA Times
"The film is alternately sweet and sad, amusing and moving." – Film Threat
"An emotionally satisfying film." – efilmcritic.com
"A pair of beautifully mismatched lead performances elevate a predictable drama to unexpected resonance in The Favor." – Variety
Synopsis
An unmarried photographer living in New Jersey receives a phone call from a woman who broke his heart 25 years ago. A week later, he has loved her and lost her all over again, and her troubled teenage son is living with him. THE FAVOR is an intimate family drama that explores the fabric of human relationships and what we will do for the ones we love. Variety calls it a "gently wrought tearjerker" with strong performances by Tony Award Winning actor Frank Wood and newcomer Ryan Donowho.
Director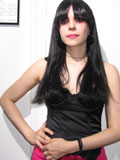 Eva Aridjis
Eva Aridjis grew up in Mexico City and then attended Princeton University, where she received a B.A. in Comparative Literature. Upon graduation from Princeton she went into New York University's M.F.A. program in Film and TV and made four short films, including the documentary "Taxidermy: The Art of Imitating Life"(official selection at the Sundance Film Festival, Edinburgh Film Festival, etc.), the fiction film "Billy Twist" (official selection at the Sundance Film Festival, Los Angeles Independent Short Film Festival, etc.), and "The Passenger" (winner of a Warner Brothers Pictures Film Production Award and a Screen Gems Award). She received her M.F.A. in 2001.
After NYU she made a feature documentary entitled "Children of the Street" ("Nios de la Calle"), about four street kids living in Mexico City. "Children of the Street" was nominated for 2 Mexican Academy Awards (Arieles) in the categories of Best Feature Documentary and Best First Feature and won the Best Documentary Feature prize at the Morelia International Film Festival in 2003.
Eva completed her first narrative feature, "The Favor", in 2006. It is a drama starring Frank Wood and Ryan Donowho and tells the story of a troubled, orphaned teenager and the man who adopts him. "The Favor" had its World Premiere at the CineVegas Film Festival in June 2006 (where it received a prize), and Ryan Donowho also received the "Best Actor" prize at the San Diego Film Festival for his role in the film. "The Favor" was released theatrically in Mexico in 2007 and had its U.S. theatrical, TV, and DVD releases in 2008.
Eva currently teaches screenwriting at NYU.