Description
Nominated, Best Short Film Directors Guild Canada
Nominated, Best Short Film LA Comedy Film Festival
Official Selection
Atlanta Jewish Film Festival
UK Jewish Film Festival
Seattle Jewish Film Festival
Greater Phoenix Jewish Film Festival
Inside Out Toronto LGBT Film Festival
"'The Seder' is delightful and witty….it stands out at this years UKJFF!" – Front Row Reviews
"Comedy in short film is a delicate balance of set-up and pay-off that when handled well, delivers and 'The Seder' delivers one of the best pay-offs ever!" – Kellie Ann Benz, The Shorts Report
"'The Seder' found a humorous heartwarming honesty in a coming out story and it has a witty twist. Mazel tov!" – Dane Clark, Writer/Director
Synopsis
When openly gay Leo decides to bring his boyfriend Mitchell home for the first time at his family's Passover Seder, the boundaries of love and understanding get a little strained. To top it all off, Rabbi Solomon is the guest of honor on this most special of occasions. Judith knows her son too well for this to just be a coincidence… something smells funny and it ain't the gefilte fish!
The Seder is a comedy in the tradition of Annie Hall and Manhattan. It draws on the rich Jewish humor found in the neuroses and traditions of a people who always try to put family first; even when they're the ones giving you an ulcer.
Director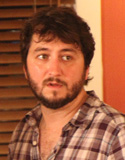 Justin Kelly (Writer/Director) has spent his entire adult life working in film and television; getting his start at the age of 19 by working as an assistant accountant on big budget shows while he financed, wrote, produced and directed his own independent films. Since then Justin has gone on to be a part of over 100 productions including features, shorts, series and documentaries and is currently enjoying his 20th year in film and television.