Description
World Premiere
San Francisco Jewish Film Festival
Official Selection
Milwaukee Film Festival
Atlanta Jewish Film Festival
An emotional film… highlights the inspiring role women play in preserving these communities. – Jewish Exponent
A tender avalanche! – The Wisconsin Jewish Chronicle
Article: This Filmmaker Captured Vanishing Jewish Communities Across America via The Forward
Article: Room for Jews via Tablet Magazine
Synopsis
An intimate look at four once thriving American Jewish communities now fighting for survival. In Latrobe, PA we witness the closing of the synagogue through the story of longtime member Mickey Radman who keeps the doors open long enough for the Bat Mitzvah of the shul's oldest member's granddaughter. In Butte, MT, we meet the indefatigable Nancy Oyer who tries to maintain her community while struggling with her personal health. In Laredo a young interfaith couple is torn between reviving their fading community or moving to a thriving one in San Antonio that can nurture the spiritual growth of their young family. And, in a twist, we meet a Los Angeles family who takes up Dothan, Alabama's bold offer to provide Jews up to $50,000 to relocate to Dothan's Jewish community.
"When you have a small congregation, it's not just a congregation. It's a family." – Brian Balk (Latrobe, PA)
Producer and director Brad Lichtenstein said "I didn't know 1 million Jews live in small American communities. I discovered a new world in making this film. A Jew myself, what I knew was my experience growing up in Atlanta and living in New York and Milwaukee- large cities where we are free to define ourselves Jewishly in any way we wish. But for Jews living in small communities, identity is a daily urgent challenge; if they don't personally uphold their communities and live affirmative Jewish lives, they and their legacies could fade away forever."
Morgan Elise Johnson, a producer and co-director of the film who is not Jewish, said "One thing that struck me was how no matter where I went, I heard the same prayers and songs. They may sing them in a different tune, but there is this strong tradition and that's something that's radically different from what I'm used to in Christianity where you can walk into a church and it can be completely different from what you'll get at a different church."  A daughter of a preacher and member of her church choir, she goes on to say "I learned every song!"
Director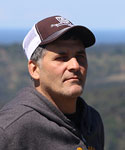 Brad Lichtenstein (Director, Producer) is an award winning filmmaker. His 2012 PBS Independent Lens documentary As Goes Janesville was nominated for an Emmy. His work on the 2015 Kartemquin­produced series Hard Earned for Al Jazeera America earned him a Dupont, as did his 2001 film Ghost of Attica. His first virtual reality film, Across the Line, premiered at the 2016 Sundance Film Festival. He's the president of 371 Productions, a media company based in Milwaukee that produces content for a variety of outlets and platforms.
Co-director
Morgan Elise Johnson, Producer/Co-director is an independent filmmaker and writer. There Are Jews Here is her first documentary feature film and directorial debut. With 371 Productions she associate-produced the VR film and Sundance New Frontiers selection, Across the Line (produced with Custom Reality Services and Emblematic Group); and the award-winning 6-part documentary series, Hard Earned (produced by Kartemquin Films). Morgan also recently co-founded TheTRiiBE.com, an online publication centered on reshaping the narrative of Black Chicago through journalism, documentary and creative content. She has a BS in Radio/Television/Film from Northwestern University.