Description
North American Premiere SXSW 2013
Official Selection
Morelia Int'l Film Festival 2012
Mexico City Int'l Doc Film Fest 2012
Ambulante Doc Film Fest 2013
Margaret Mead Film Festival 2013
"A beautifully shot doc in which three women of different generations, including a 90-year-old, a 50-year-old and a teenager, describe how they fell in love, how they became disillusioned, and how they keep on going with their lives." – Manuel Rueda, ABC News
"A compelling multigenerational look of three women in relationship to their age" – Daniela Michel, Indiewire
"A vibrant cinematic kaleidoscop… emotionally rich… both humorous and sentimental, just as love stories ought to be." – The Austin Chronicle
Synopsis
Three Voices recounts the intimate love stories of three women of different generations: a teenager, a middle-aged divorcée, and a 90 year-old great grandmother. Each character is revealed in their intimate spaces, which are not only physical interiors but memories, personal archives, and a constellation of objects woven around them. In this intimacy the women reveal their expectations, dreams, fears and disillusions, as well as their most private beauty rituals. The women remind us of our aunts, mothers, sisters and grandmothers, that is, everyday women in our everyday lives. Love, as experienced by the characters, is not only the victim of time but also of their own expectations changing through the time. The film deals with the perception of love through time as well as loss and solitude in the idea of love.
Director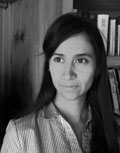 Otilia Portillo Padua
Otilia Portillo Padua studied Architecture in the University of Cambridge and the Architectural Association. She directed the film Tzolkin (Guatemala/Mexico 2001), a short documentary about religious syncretism in Guatemala. She directed the film Heavens Mirrors Everything (Guatemala/Mexico, 2006), a feature length documentary about the Guatemalan tradition of storytelling in wakes. She was awarded the Young Creator's Fund in 2010 to start Three Voices and was also selected among 12 international projects to participate in the Berlinale's Talent Campus Doc Sation. She won the DocsDF- Churubusco Docs in Progress Award 2011 to post-produce Three Voices.