Description
The Philippines' entry to the 86th Academy Awards
World Premiere Cinemalaya Independent Film Festival
Winner, Best Film & Best Director Cinemalaya Independent Film Festival
Official Selection
Los Angeles Jewish Film Festival
Busan In'l Film Festival
"Espia makes an impressive debut with this gracefully directed, inventively edited look at the plight of Filipino immigrant workers in Israel." – Variety
"Transit is a marvel… tremendous" – Twitch Film
Synopsis
When the Israeli government begins deporting the children of migrant workers, Janet, a domestic worker on an expired visa, struggles to hide her half-Israeli daughter, Yael—a rebellious teenager caught up in a juvenile romance, and Joshua, a four-year old boy left in her care. Working outside of the city as a caregiver, Moises, the young boy's father, struggles between providing for his son and protecting him from the authorities. The film also explores the life of Tina, a young woman who arrives in Tel Aviv to start a new life and resides with Janet. With the constant threat looming over their precarious lives, the film examines what it means to be a family and what it means to be a stranger, within one's home and in a foreign land.
Director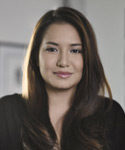 Hannah Espia is an up-and-coming young filmmaker based in Manila, Philippines.
Transit, Espia's debut feature film, premiered at the Cinemalaya Philippine Independent Film Festival in July 2013 to critical acclaim and won ten awards including Best Picture, Best Director and Audience Choice, heralding Espia as an emerging new voice in Philippine Independent Cinema. Transit will have its International Premiere at the 18th Busan Film Festival under the New Currents Section.
Espia is currently developing her next project #NoOneWillFindUsHere, a creative documentary about the short encounters of long distance lovers.