Description
Official Selection
Margaret Mead Film Festival
Boston Film Festival
Twin Cities Film Festivals
Chagrin Documentary Film Fesitval
Tallgrass Film Festival
San Diego Film Festival
Edmonton Int'l Film Festival
Shanghai Int'l Film Festival
Reveals the intimate relationship between a war photographer and war itself. – Kenneth Turran, Los Angeles Times
Tony Vaccaro's life was forged by pain and courage. Passion saved his life and enriched ours. – Tim Van Patten, director Game of Thrones, The Sopranos
Starred Review!
Commendably filmed and edited, this presentation is very highly recommended for adult video collections. – Library Journal
Blending artistic appreciation with military history…Highly recommended. 3.5 ★ out of 4 –Video Librarian
No one got closer than an infantryman in war, and no one got closer than Tony. – Alex Kershaw, Historian and New York Times best-selling author, "The Liberator"
Synopsis
UNDERFIRE chronicles the life of a man who played two roles during World War II, both at great risk: a combat infantryman on the front lines and a photographer who took and developed roughly 8,000 photographs of the war. Director Max Lewkowicz visits European locations where Vacarro shot some of his most powerful photos, tracing his evolution from a young GI eager to record the war, to an elderly man increasingly horrified at man's ability to wage war, having vowed to never take another war photo the day the war ended. Through interviews with Pulitzer Prize-winning photographers, and Vacarro himself, this intimate film delves into issues about witnessing and recording conflict, how photography defines the way wars are perceived by the public, and the sheer difficulty of survival while taking photos in a dangerous war zone.
Director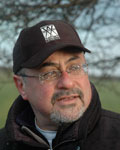 Max Lewkowicz, founder and owner of Dog Green Productions, a New York based documentary film company, has written, directed, and produced hundreds of productions for network and public television, museums, and multinational corporations in a career that has spanned over twenty-five years.
Mr. Lewkowicz's documentary works include award-winning films about the mercury pollution afflicting Native American tribes in Northern Canada, the Dance Theater of Harlem, the generational cycles of poverty in America's inner cities, Nelson Mandela's struggle against Apartheid in South Africa, as well as Across the Bridge, a documentary about the American Military Doctrine in Germany during the Cold War and Ours to Fight For, which tells the stories of American GIs in World War II.